Merce Photos Finally For Fans of Photography
Ok. So after a great deal of trouble, including three sumo matches with separate computers, a western shoot out with Talia's laptop, and a samurai sword battle with the
ordenadors
(computers) at school, I think I have finally found a way to successfully upload pictures. Some may be just links to a photobucket page where the pictures are, but we'll see as the post continues.
Well then - I'm sure you've all been waiting with bated breath for pictures from Merce, no? You will find, I think, that it was worth the wait. This festival is insane. absolutely certifiable.
As a side note, we did most of the events with our group of friends from our program including Clarissa and Carla, whom I've mentioned before, as well as Ally and Monisha, who are also wonderful people.
The events started Thursday evening, beginning with a "March of the Devils and Demons". This parade started in the Plaza Sant Jaume (the center of the city during the Roman and Renaissance periods). Each "float" walked out through the doors of the Barcelona city hall, into the crowd of thousands waiting, it moved through the crowd, cutting a swath about ten feet across, and then marched its way towards the Cathedral (about two blocks away through winding old streets).
I say "floats" because they aren't really. They are either wheeled sculptures or large shell costumes manned by two or three people. They were all lavishly painted and quite frightening. Many of them had pitchfork-like metal things sticking off of them, some of which had green flares attached to them, others left empty. The significance of these will become apparent later.
There were probably more than 30 floats, each one a different monster or animal (dragon, pig, donkey [that's some Spanish symbol I don't quite get] rat, griffon, etc.). Here's an example of a dragon with green flares:
Saturday morning we went over to the Mercat Catalina, which is one of two gigantic pseudo itinerant farmer's markets. The other is La Boqueria I think, and that one is open air and a bit seedier. Catalina is new, with a beautiful wavy gaudi-esque roof (aka broken tile work). Outside the market were two stages, and at any given point a show was going on on one, while the other was being set up for the coming act. Constant entertainment.
The first show we saw was a woman doing a modern dance piece that was really quite beautiful, according to Talia. I was being stupid and looking at maps, and I didn't pay very close attention (shame on me).
The next performance was two guys, both dressed in all black diving suits, doing the most amazing strong-man routines I've seen. it was part dance, part balance, all Cirque du Soleil.
Here is one particularly stunning pose they did: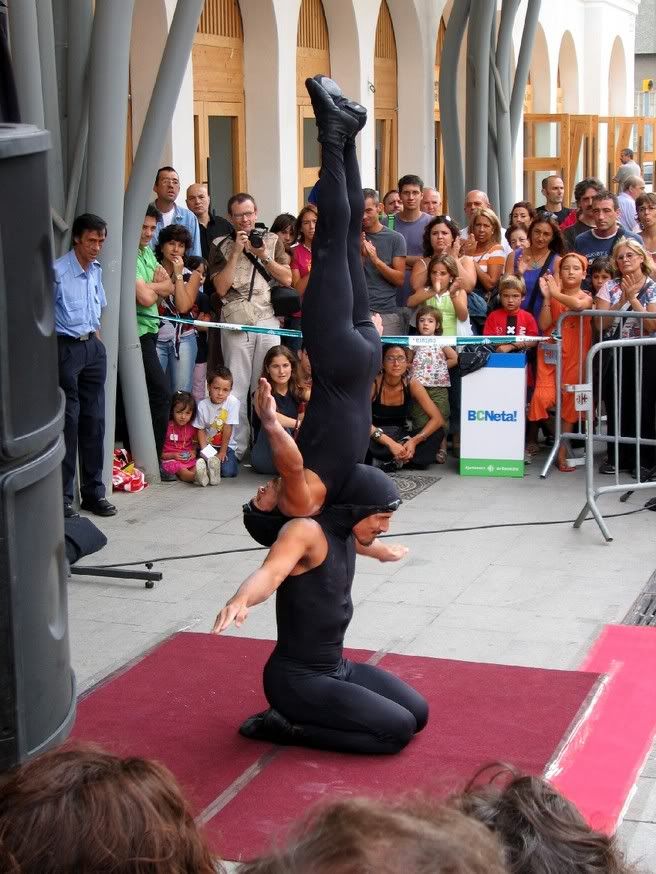 after this pose the bottom guy actually STOOD UP and walked around with the other guy on his neck like that. wow.
Then there was a clown performance which was really hilarious. Observation: public entertainment in Spain, from what little we've seen, seems to have a much different idea of what is "appropriate" for children. For example, the acrobatic show we saw was, due in part to its nature and impart to liberal use of hip thrusts, very homoerotic. That isn't meant in a bad way at all, it leant an almost sensual quality to their work, which contrasted with the brute strength and complimented the grace of their movements. Additionally, the clown show we saw was overtly sexual, with the clown selecting an audience member to participate in "acro sex", as well as her (the clown was a her) grabbing at the butts of participants as they walked away. the list goes on, but it was interesting to note how shows like these would NEVER be deemed appropriate for children in the states. Oh, and just so you know, the first 5 or so rows of audience was all children.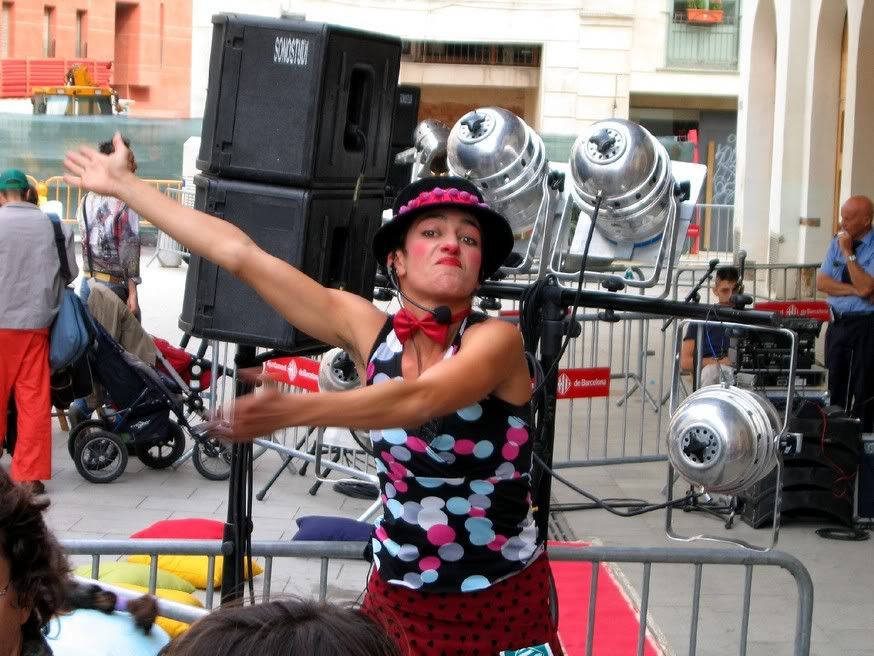 Kite festival. TONS of kites, from stunt kites to gigantic giraffe heads to weird circle kites and other geometric phenomena. It was right on the beach, and followed by a hot air balloon exhibition thingy.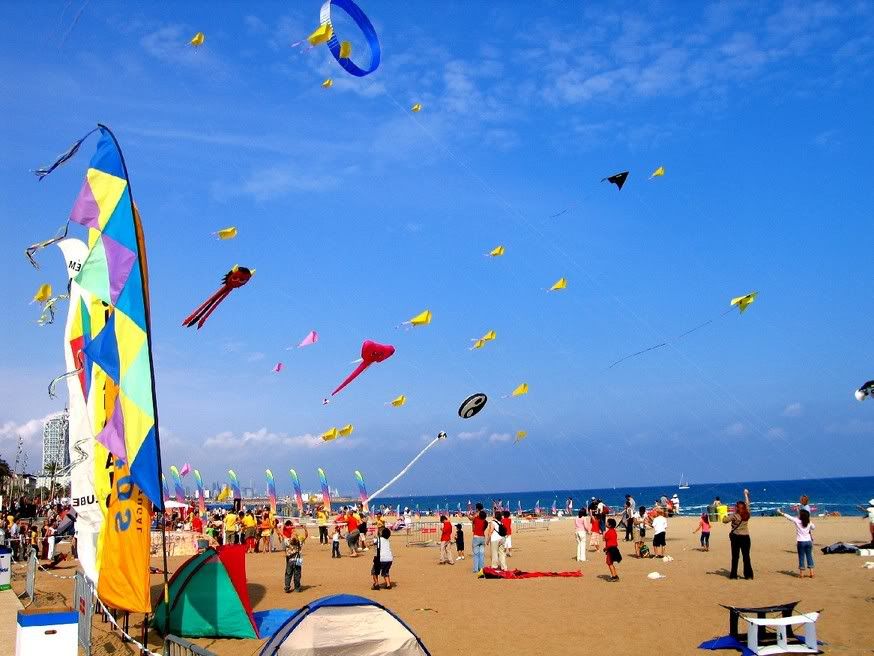 Saturday. Woke up and went back to Plaza Sant Jaume to see the legendary Catalonian
Castillas
(Castles). These are towers of people, from the simple (ha) single row four tier: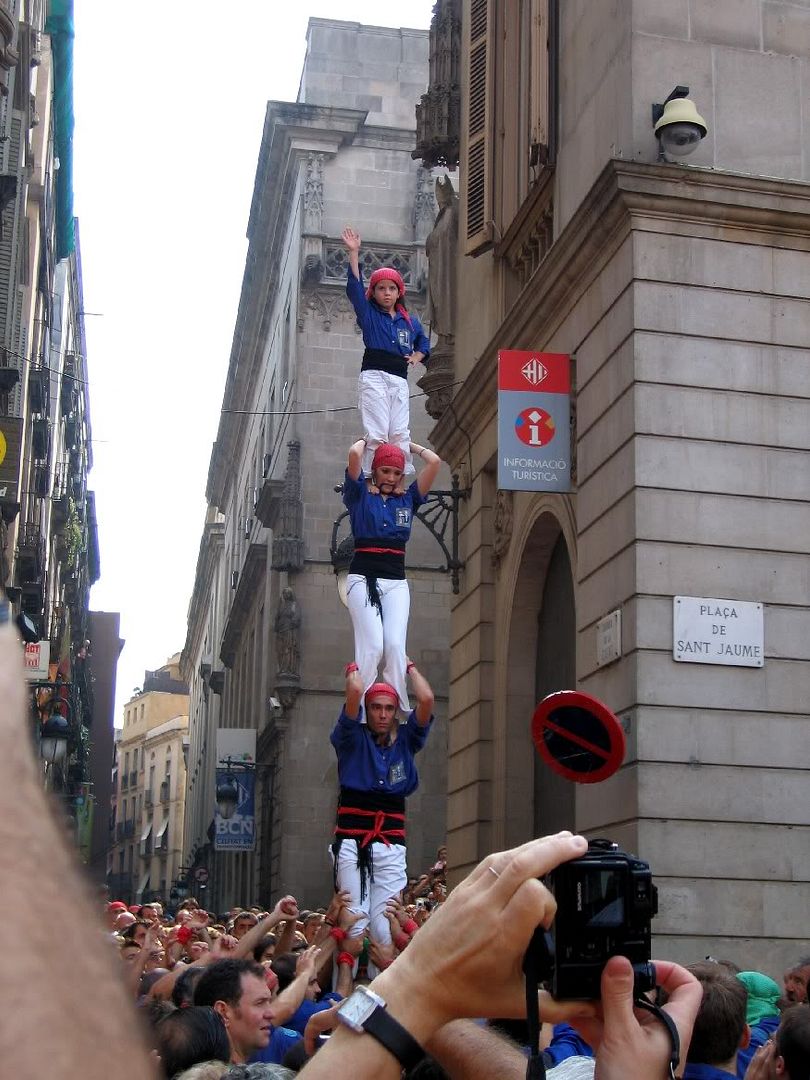 Here a single row formation moves towards the balcony of the city hall and the kid on top is lifted from the formation onto the balcony, some 20-25 feet in the air. I've never seen a kid look happier than that kid did once he was on the balcony.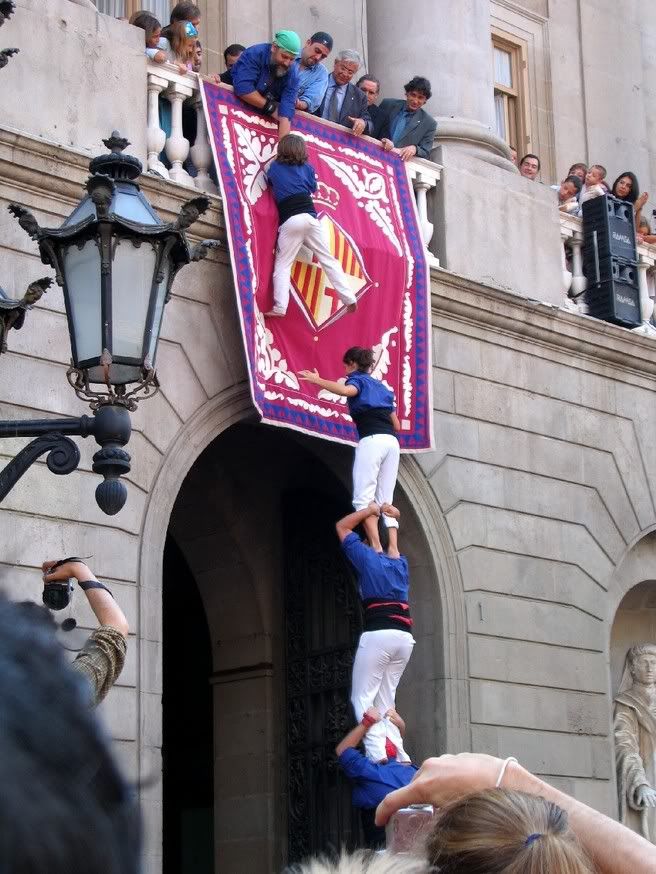 To the amazing multi-person multi-level full castle:
The Plaza was so full you could lift your feet up and not sink. Talia had ingenious winding skills and managed to navigate us to the very center so we were DIRECTLY beside two of the castle groups. there were 4 or 5 groups in all, interspersed among the crowd seemingly at random, though all close to the middle. Each team wore a separate color, though all shirts were collared, and all had on the black wrap around their wastes (this is wrapped VERY tightly, I think for back support). The collars are important, because each person who is not on the top tier turns the collar up and puts the corners into their mouths, biting down to reduce the teeth grinding I imagine would be inevitable from such strain.
The castles work according to size, obviously. The single tiered ones were mobile, i.e. the crowds built their tower and then slowly walked their way into the plaza center. The larger castles were quite stationary. However, they did shake. When you've got 7 tiers of people on your shoulders the strain is inevitably going to show – and you could tell the fitness of each team by how much they shook. Talia and I looked on in horror as we saw one castle shake so badly that it collapsed, people 30-40 feet in the air falling onto the crowd. But luckily these people practice a lot, and they know how to fall. They imploded in such a way that a) no one in the team got hurt and b) they didn't even touch anyone in the crowd, which is amazing, because talia and I were inches away from the team that fell and they could have seriously injured us and others had they fallen three feet to one side (even more so because no one could have run away if they'd wanted to, the crowd was so tightly packed).
Castles…I could go on about them for hours – they are really an amazing display of cultural heritage and community teamwork (the various teams were from sections of the city as I understand it). but I'll shut up about them for now.
So after castles we went….umm…I think im getting my days mixed up, b/c this next thing happened on Friday. Oh yes – switch this next thing and the kite festival, im too lazy to go back and change it.
walking back from something or other on our way to our apartment, we ran into a parade. but not any parade. this was known as the "march of the little devils and demons". Sound familiar? This was a brief taste of what would turn into a much larger parade in the evening. But the small one first.
Picture this: a street lined with thousands of people, and a procession of seemingly innocent children dressed in full-body devil and demon-esque costumes. It is around 5pm or so – the sunlight fading but still bright out. You worm your way to the front of this crowd and view a gap in the procession. There is a grown man with a torch who has a group of the children getting into a line. Then you notice what the children are carrying – pitchforks. wrought iron pitchforks with these circular contraptions on top and other sticks on top of that. You are confused. Suddenly the torch man thrusts his torch towards the fork of the first child. The kid starts skipping and running around as his pitchfork bursts into flames and starts shooting sparks 8 feet in every direction as it spins on a ball joint attached to the pitchfork. This happened for all the kids – sometimes two at once. They danced around, happy as ive ever seen children, showering anyone in the center of the street with sparks.
Of course, I made my way to the center, drawn impulsively to anything bright and shiny. Luckily however, these sparks didn't really hurt. They sort of felt like the handheld sparklers on the 4th of july – no big deal. But the procession was so interesting – children playing with fire, holding pitchforks at eye level that shoot out flames onto unprotected audience members. not exactly something you would see in the states.
Little did I know…
That night was the scary older brother of this relatively tame event. Known as
Correfoc
(fire run) this tradition of Merce and other Catalonian festivals is probably the most frightening thing I've ever seen. On the same street where the smaller version was (Via Laetana, a block away from our apartment, mind you), gathered thousands of people at 8:30 in the evening. I can not describe how many people there were. Laetana is a 3-4 lane road, fairly large for the part of the city it is in, and it was packed with people from edge to edge for probably 15-20 blocks. What were they waiting for, you ask?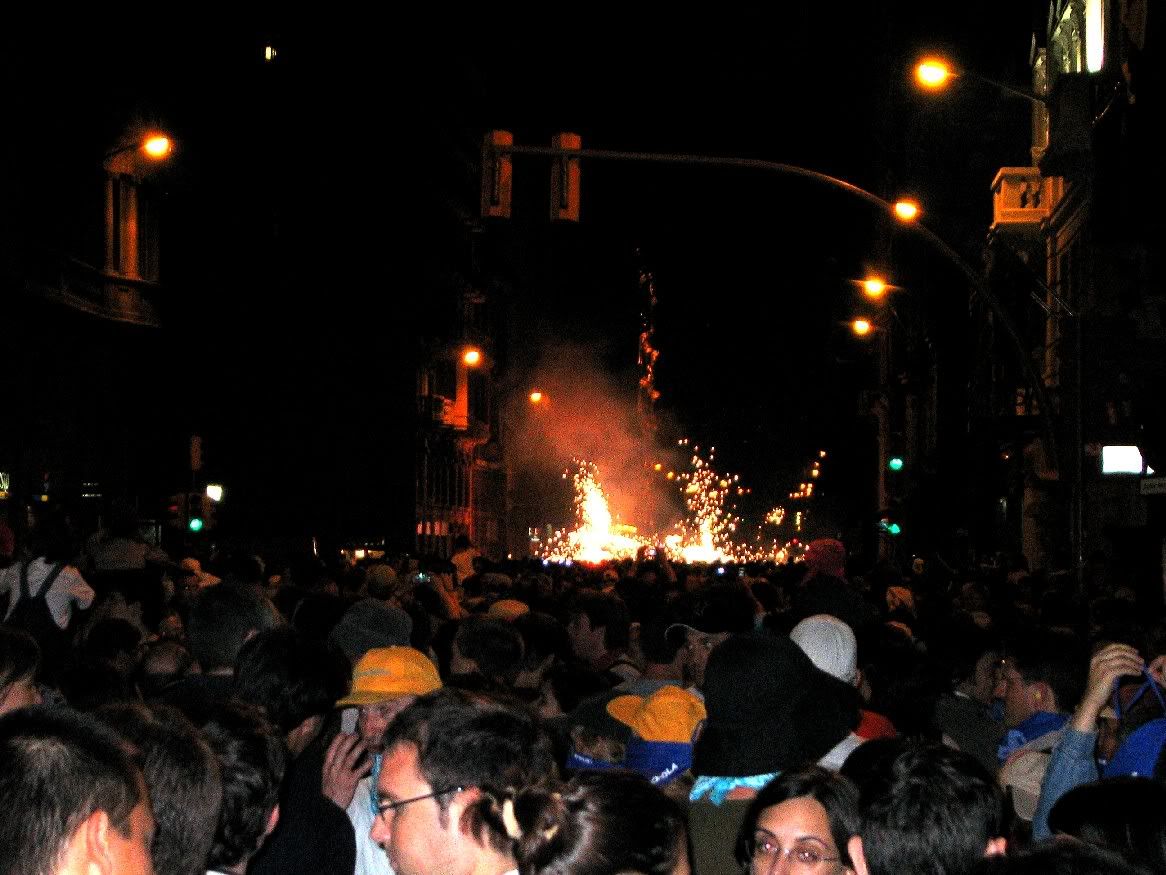 We saw this in the distance as, 3 or 4 blocks away cheers and shouts erupted and we could feel our bodies vibrate with the beating of far off drums. To us it looked like a wall of fire, moving inexorably closer. Eventually, as the drum beats grew louder and the fire grew in size and brightness, we were faced with this:
What is this? Two things. People, ages 20+ I imagine, dressed like the children in full-body (read: protective) devil costumes. They hold much larger pitchforks which are armed with seriously more powerful sparkling flares that shoot up to
twenty feet
. Some spin very quickly, showering a circle around the devil, and some are straight, which the devil uses to aim at specific people/body parts. As the fire approaches the crowd thins, running for the sides, smashing up against each other to protect themselves. The devils then light off and run around – anyone who is not pushed to the sides of the street fair game to be showered. Then, the people who are either prepared for this night (i.e. dressed appropriately with full cotton covering, gloves, hat, face guard, etc.) or incredibly stupid (me) run towards the dancing devil and grab on to him/her, moving with them until so many people come he can't move anymore. You then stand under the fire shooting out from the pitchfork and wait for it to stop, which it inevitably does with a huge BANG as the sparkler runs out. Then you retreat and try again.
Insane, no? The purpose of this parade is to set people on fire. I was dangerously close to complete mental depravity during this
correfoc
, as I was in shorts and had only a long sleeved button-up shirt to protect my head and face. But did that stop me? no. Did I get burned? twice. These sparks were not the painless kind from the children's parade. I received two nasty battle wounds, one on my fore arm, the other on the top of my head, whicih actually burned away a section of my hair but thankfully is not noticeable.
Additionally, I should mention that there WERE children here. Parents brought along kids, ages 4+ or maybe younger, which, while they usually stayed back at a safe distance, would scare the poop out of me.
Oh ya, and then there are the "floats" from before. Remember those protrusions I mentioned? Their purpose was to hold sparking flares, which they did very well. Witness:
And it all ended with fireworks every night on the beach: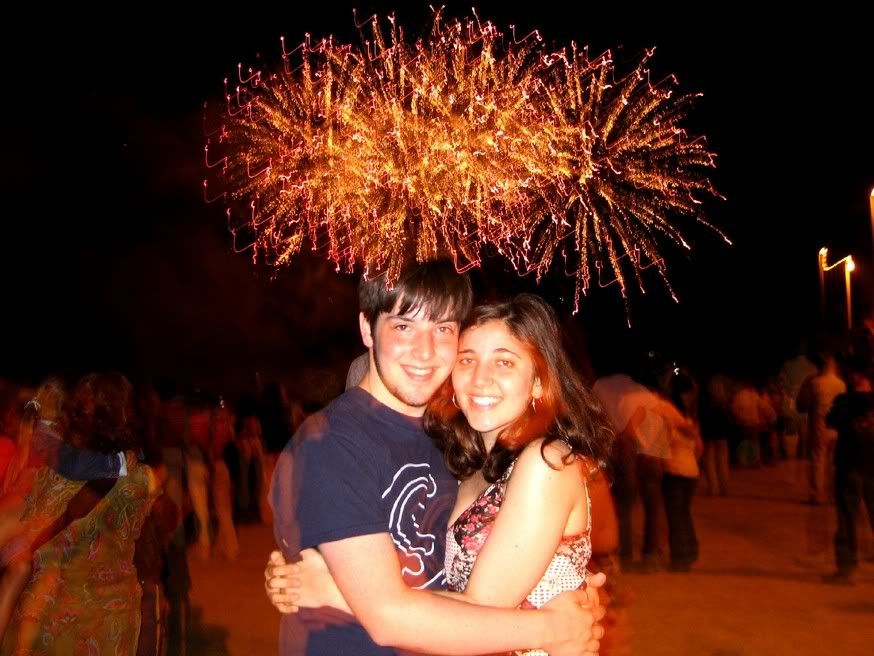 So that, my friends, is Merce, in a nutshell. And we did a fraction of what there was. 500! city sponsored events, all free, were open to the public. We did do a few other things actually – we went to the Catalonian history museum since it was free, which was quite enjoyable even though our feet were killing us (we did more walking this weekend than I thought possible) – we saw various concerts by various people (though we missed the Ben lee and Saul Williams performances ☹)
We saw amazing street performances, drank sangria while listening to Spanish bands cover American 90's hit songs, saw giant puppets twirl: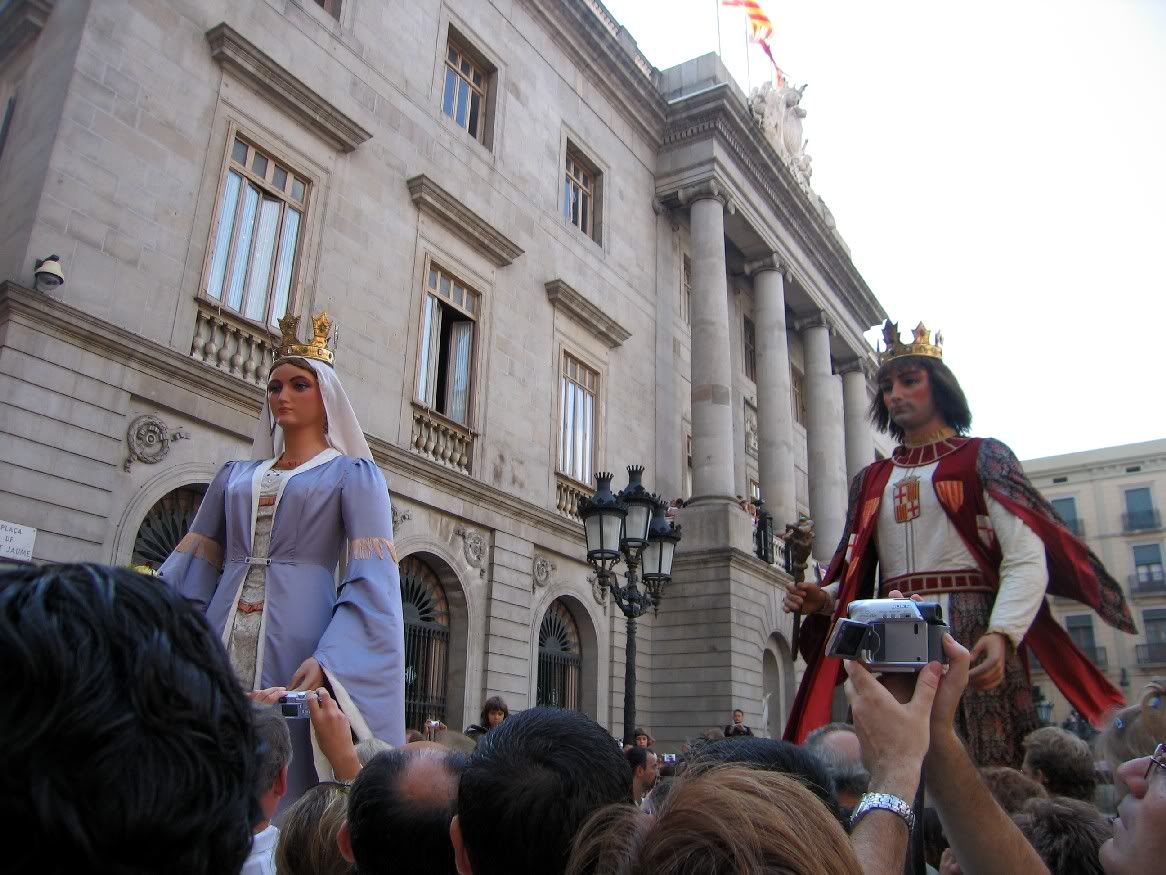 etc etc etc. I'm tired again just writing about it.
So if you were ever wondering the best and worst time to come to Barcelona, it is during Merce. When the crowds are gargantuan, everything is free, and this city parties like no other city I've ever heard of.
phew.